14th September 2020
Back to work with all possible precautions.
I can offer one to one classes.
Also, classes with two members from the same household are possible too.
Bank details are here:
Please click on the links below (or the menu above) to see the timetable for the relevant days.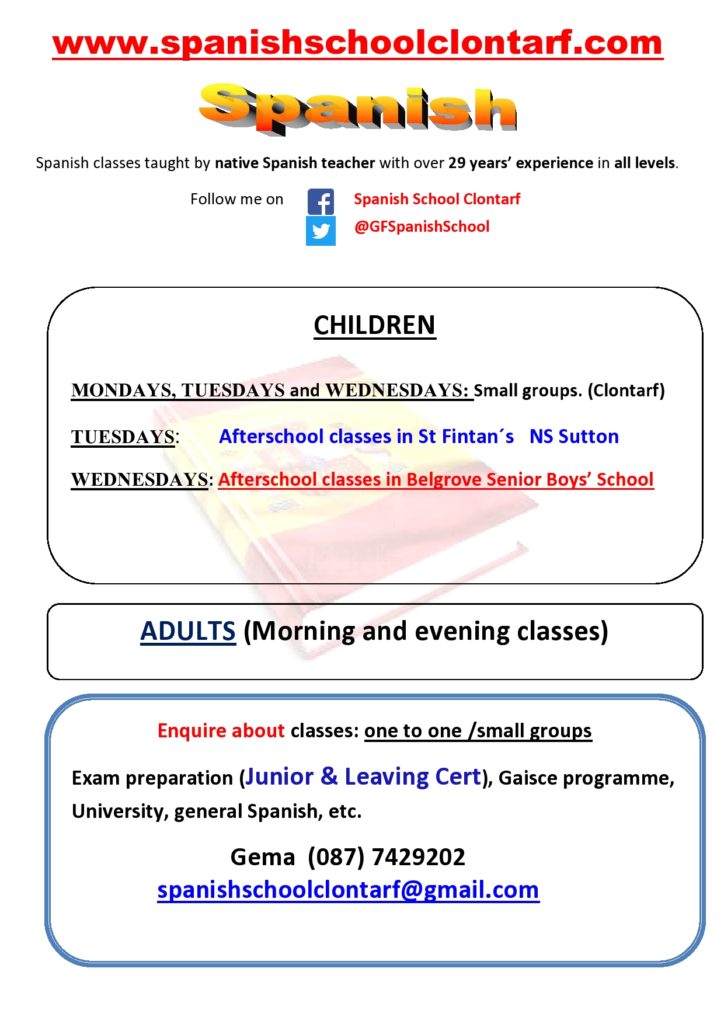 Fees Policy for afterschool classes:
Course fees are expected to be paid at the commencement of the course.

  Fees paid after this date will be subject to an

extra fee of €5 per week

to cover the extra administration involved.
NOTE. The discounts are only applicable to those students who pay at the commencement of the course.
Trial classes are not offered at the moment,  except in very exceptional cases and they would have been agreed in advance with me.
I offer two terms every year.
There is a discount of €20

for those who choose to

pay both terms

together at the beginning of the first term.

(This discount is ONLY for those children who take part in the afterschool classes in Saint Fintan's, Belgrove Senior boys school or in Glasnevin (for  Senior, 1st and 2nd class

students).
There is also a discount of €5 per second or  third child to discount each term 

for those families who have

two or more children

learning with me in the afterschool classes. (Please, mention this detail when enrolling your children).NOTE. The discount is only applicable for those students who pay at the commencement of the course

Spanish School Clontarf accepts no obligation to refund any fee or any part of any fee paid in respect of any course. Refunds may, however, be made when students who have paid the full course fee to notify me before the course commencement date that they do not intend to take up the place reserved, all fees paid will be refunded except for an administration fee of €40. Application for such refunds must be made to me in writing.    Fees will be refunded in full should a course be canceled.     In exceptional cases of hardship (e.g.medical, bereavement) requests for refunds of fees once the classes have started may be considered, but such requests must be made in writing to me with supporting documents.

Fees for classes may not be pro-rated due to student's absence. Please note that this policy will only be revised in exceptional circumstances.
Note: Children who haven't paid the full fee by the commencement of the course are not covered by the Spanish School Clontarf insurance policy, nor are children who are collected late after the class has finished. Additional childcare of €5 will be payable for each 15 minute period that the designated responsible adult is late.
When enrolling your child or children, please include the following details  and then send me an email to [email protected]
I have read and understood the fees policy: YES—-NO
School:
Name of Student:
Date of birth:
Class:
Class Teacher:
Name of parent/guardian:
Contact number:
Email:
Allergies/Medical condition(s):
Reasons to learn Spanish:
¿Do you want me to send you a message letting you know when your child hasn´t been in the class?
Please click on the menu above to see the timetable for the relevant days.